Kompetenzzentrum Wasser Berlin (KWB), in cooperation with Berliner Wasserbetriebe, has started their field work at the waterworks. The waterworks in Berlin are part of SafeCREW Case Study 1, which represents near-natural non-disinfected drinking water supply. The two largest cities in Germany, Berlin and Hamburg, have water treatment chains and drinking water distribution networks without disinfection, with natural and deliberately recharged groundwater as source water. Existing early-warning systems do not yet include innovative microbial monitoring. SafeCREW will develop a future-oriented risk management approach that will build on the detection of relevant microorganisms at very low concentrations during subsurface passage.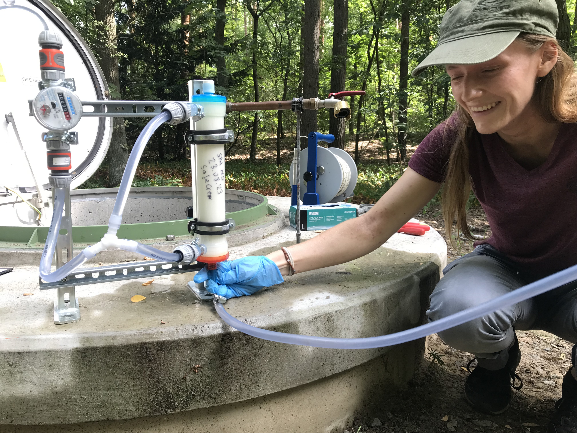 Microbiological measurements will be carried out over a period of twelve months at an infiltration basin, a groundwater observation well and a drinking water well. The investigations include monthly manual sampling of microbiological indicators and automated microbial cell counts using flow cytometry. During manual sampling, water volumes up to 100 L are concentrated via membrane filtration. The defined pore size retains microorganisms, such as bacteria and viruses, while the water flows through the membrane. The retained microorganisms on the membrane are then backwashed in the laboratory to quantify the microbial indicator organisms. Sampling via membrane filtration offers several advantages. Due to the enrichment, it allows effective detection of microorganisms of low abundance. In addition, the method is quite simple and inexpensive, making it a viable solution for regular water quality monitoring.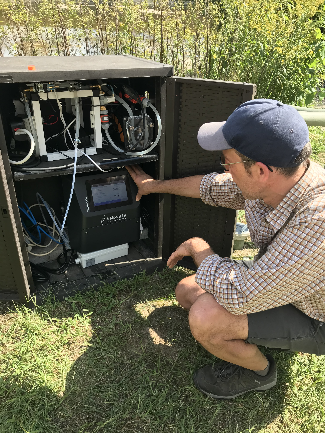 Flow cytometry enables the fast and accurate detection of bacteria in a sample. The results are used to better understand the microbial dynamics in groundwater, to monitor environmental pollutants that affect microbial growth, to observe ecological changes and ultimately to ensure the sustainability of our groundwater resources.